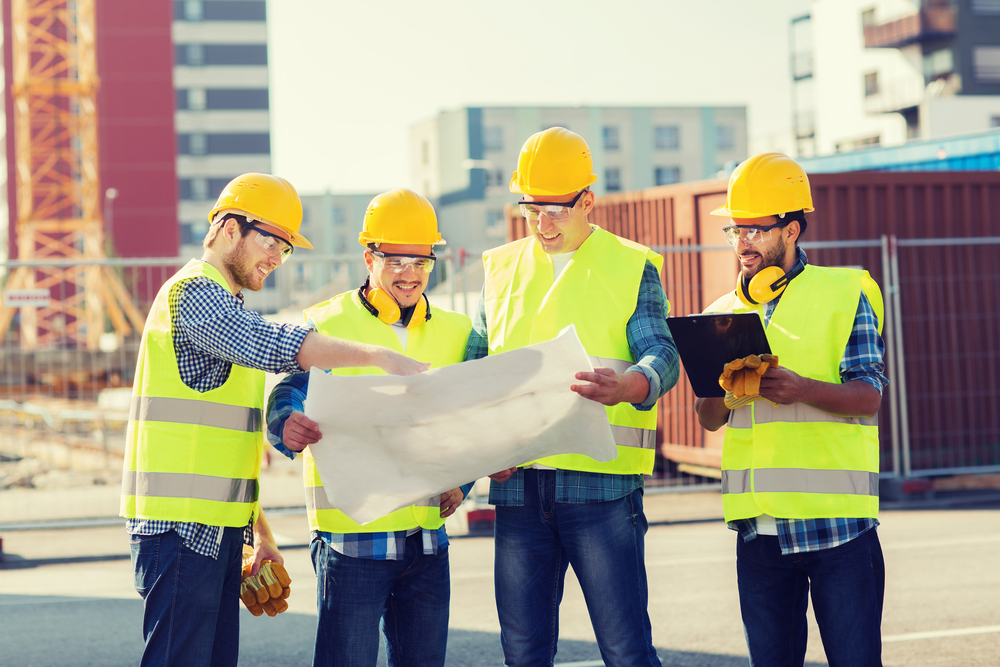 Construction projects that don't complete on schedule cost money. Furthermore, when projects go over budget or overrun on completion, they can damage your company reputation.
Worryingly, this is the case for around two thirds of all construction projects with industry data indicating that only a third of builds stay within budget.
This is discouraging news when we look at the pressing need for increased infrastructure in the coming decades. Just keeping pace with projected global GDP growth will require an estimated $57 trillion in infrastructure investment between now and 2030.
Tackling inefficiency is therefore a key challenge for the industry and one that its workforce already recognizes. According to the US Chamber of Commerce, almost 90% of construction workers today classify the industry as unproductive.
So, what can be done to change the status quo? With the industry increasingly ready to adopt change in its search for increased productivity, we look at 3 important strategies that can enhance efficiency and drive down waste in your construction projects.
1. Improve efficiency with pre-construction planning
Successful construction project planning involves organising the interaction of multiple people, processes, information, materials, and equipment.
This process begins long before ground is broken on any new project, which is why pre-construction planning is a vital part of eliminating delays once the build begins.
Extensive, in-depth planning can help to mitigate the impact of changes on the ground that could affect project timescales; helping managers to streamline complex projects and keep things moving.
a.) One of the most important aspects of your planning process is benchmarking
To achieve genuine improvements in efficiency, you will need to develop metrics to determine just how accurate your current planning process is. Benchmarking performance from project to project allows you to mine this data for insights.
By looking retrospectively at previous builds, you can identify realistic planning improvements, ensuring supervisors send out appropriately sized crews and allocate appropriate hours to meet a predetermined production rate.
With a data-driven formula guiding consistent decisions across all projects, you'll be better equipped to optimize productivity and reduce downtime.
b.) Utilising Building Information Modelling (BIM) is another vital way to improve the design and construction process from the outset
During the design phase, architects use BIM tools to create detailed 3D models of a structure. Using these models and calculations, users can easily identify the most efficient construction workflow for a project.
Not only will BIM generate cost and resource savings around pre-build logistics and set-up, but it can also help to increase efficiency during construction by eliminating confusion and miscommunication.
With access to accurate 2D and 3D build visualisations, everyone involved is on the same page. All stakeholders can access BIM documents to ensure a project is going to plan, resulting in reduced waste and shorter project lifecycles.
c.) Accurate pre-construction planning can also realise procurement and supply-chain improvements
Digitizing the procurement process will enable more sophisticated logistics management and facilitate just-in-time delivery, while investing in BIM technology can underpin the use of modular, pre-fabrication and offsite fabrication techniques.
By sourcing modular, pre-fabricated construction components, you may be able to cut costs and increase productivity. Those build elements that can be put together beforehand will be installed on-site much more quickly than a traditional structure.
2. Invest in construction technology to enhance project management
Significant advances are being realised in the construction sector through the adoption of digital technology and software solutions.
From pre-construction planning to equipment maintenance and on-site communications, the latest digital technologies have the potential to transform the effectiveness and efficiency of construction.
Technology alone, however, will not address poor productivity. To access the time and money savings on offer requires buy-in from both management and those working on-site.
At present, only 29% of construction managers report consistently using the software at their disposal. What's more, 40 percent rely on paper plans with many still printing digital documents to share and amend with suppliers.
So, what does software have to offer for those ready to embrace the latest digital tools?
a.) Project Management Software
Project management software allows you to streamline projects and reduce delays. It enables managers to sequentially plan and execute on-site tasks for an effective workflow.
With a clear project timeline that can be accessed by all stakeholders, tasks are scheduled such that teams move through each project phase in a linear fashion. This waterfall approach to planning provides improved oversight with benchmarks and stakeholder meetings built into the timeline.
Better cashflow and cost analysis are further benefits of this type of software. This can help project managers stick to a clear, consistent guaranteed maximum price (GMP) contract.
A central, cloud-based document management system also supports effective reporting, while dashboard apps provide real-time insight into productivity; ensuring organisational software unlocks major efficiency gains.
b.) Mobile Construction Software
Mobile applications for construction management are a gamechanger. Much of construction management needs to be done on-site, so computing devices such as smartphones and tablets are a must, however, using desktop software on these devices is not ideal.
Purpose designed mobile applications for construction management are revolutionising this space. With mobile-first software on the construction site it is possible to unite individuals from across the workforce. Engineers, architects, site managers and sub-contractors all have access to a cohesive information repository.
Not only does this improve documentation and enhance safety, but it can also increase communication, allowing workers to share and collaborate on key documents with ease.
Providing enhanced access to information also facilitates real-time communication. This allows site supervisors and project managers to check in with management frequently, reducing project delays and supporting teams to spot potential weaknesses before they cause delays.
c.) Fleet management software
One of the most vital assets on any construction worksite is the specialist machinery that enables your team to carry out heavy-duty tasks. For optimum efficiency, this equipment must be managed, maintained, and fuelled according to best-practice guidelines. Fleet management software helps you manage this process intelligently.
Data-driven construction equipment management is one of the best ways to improve efficiency in the construction sector. Software, combined with RFID tracking, can provide accurate information on how and where equipment is used.
With precise feedback on your fleet, you will be empowered to take control of costs, eliminate machine downtime, and improve operator behaviours.
Fleet management can also help you take control of fuel management, for lower fuel overheads and improve your environmental impact.
With the right software in place, your equipment will last longer, work harder and cost less to operate, helping you keep productivity on track.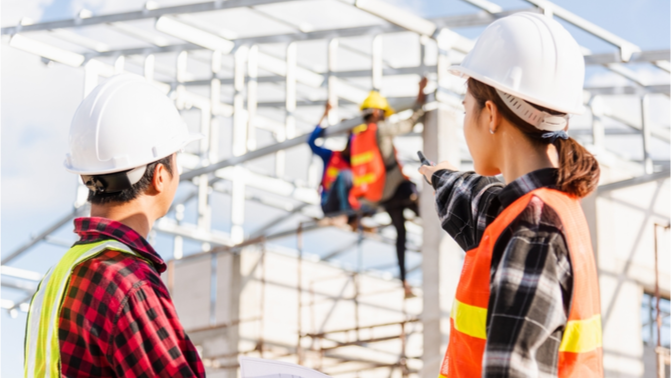 3. Project safety and team training for right first-time results
Training goes a long way to increase efficiency and productivity on the construction site. The skill and knowledge of your on-site crew can have an enormous influence on how well a project is executed and how long it takes.
Put simply, when a worker is trained to a level where they feel 100% competent, their output will naturally increase.
Unfortunately, when we combine this with an industry-wide skills shortage, it's clear that in-house training is more important than ever. Training frontline workers in core skills that are currently underdeveloped, as well as in new technologies, can help to alleviate issues around seasonal workers or ageing managers leaving the workforce, thus improving workforce stability.
It is also highly recommended to focus not only on crew training, but also training on-site supervisors. By emphasising consistent and appropriate training measures, you can ensure that everyone is pulling in the same direction, with a clear focus on improving the speed and effectiveness of specific processes, thereby increasing overall project efficiency.
Thorough training of construction teams should include:
Communicating the final goal for each project
Dividing tasks into smaller goals to be accomplished sequentially
Providing clear, written instructions and access to relevant documents
Providing instruction on processes to avoid personal interpretation
For more information on training and health and safety requirements, the EU OSHA Directive lays down minimum safety and health requirements for construction sites to prevent risks by establishing a chain of responsibility.
In all cases, organisations must underline that the most efficient way to complete a task is also, without exception, the safest way.
One of the fastest ways to reduce productivity in the construction industry is to skimp on supervision and oversight as this will often result in the need to rework a project. Get the job done correctly the first time, however, and you will avoid going over budget.
By following the pointers we have outlined above and investing in project efficiency, you will be equipped to maximise your outcome, simplifying even complex projects for improved results with the lowest possible resource input.
For building and construction companies working on large-scale projects or industry-specific builds, the EIDA construction project management platform excels. Created by people who understand the unique pressures of working on large, complicated builds, EIDA software delivers a complete, all-digital, specialist solution to improve efficiency in complex construction projects.
Speak to one of our senior consultants to find out how EIDA's custom platform can improve the structure and flow of your projects, reducing risk and improving quality, build after build.