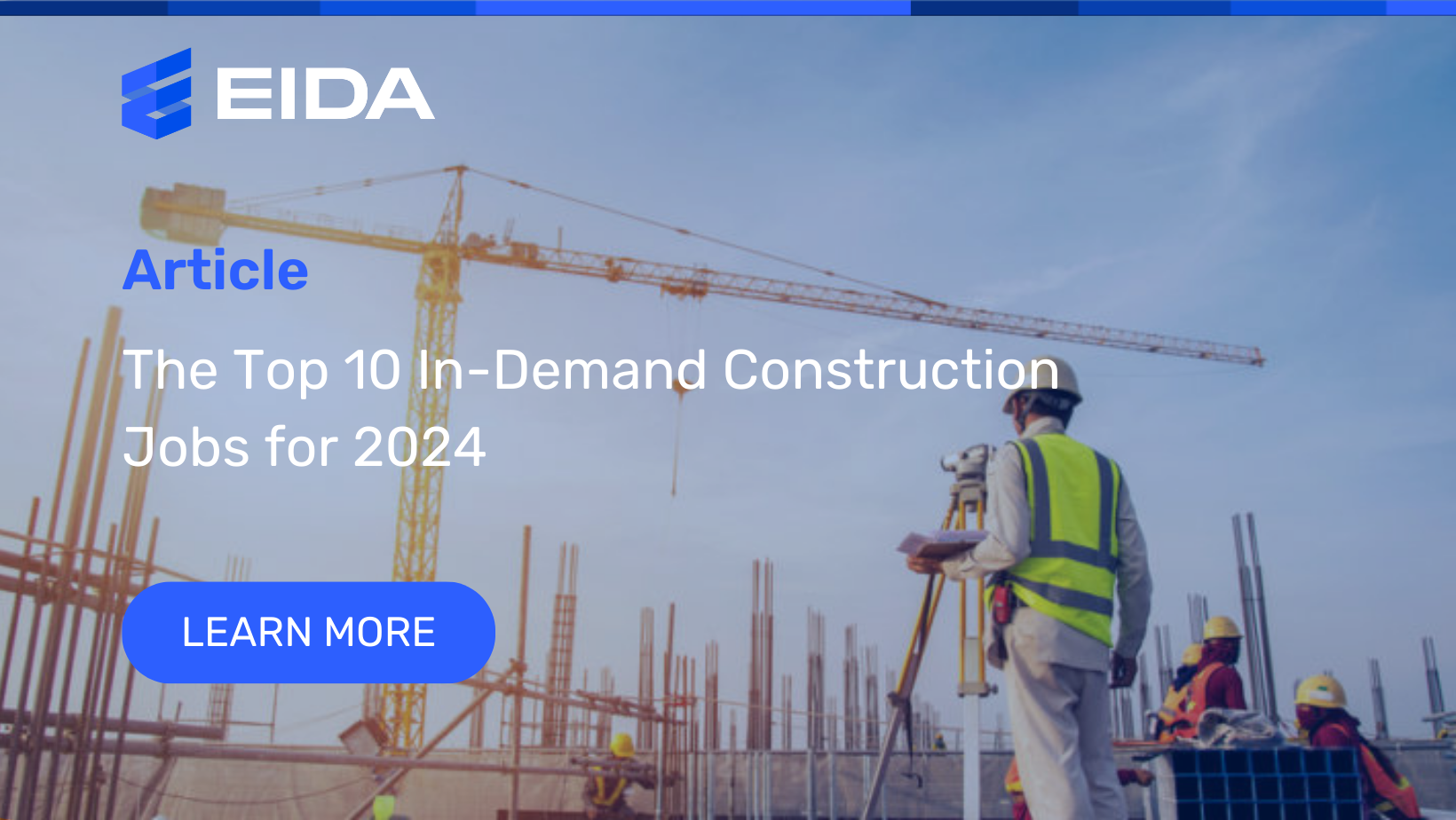 The construction industry has always been a cornerstone of economic development, driving progress, providing infrastructure and shaping our built environment. As we look ahead to 2024, the demand for skilled construction professionals is projected to surge with the Bureau of Labor Statistics (BLS) expecting a significant growth in new job openings in 2024 with it estimated that in the United States alone there will be 790,400 new job positions in the industry. 
In 2022 the construction industry in the US averaged more than 390,000 job openings per month, the highest level on record, while unemployment in the sector of 4.6% was the second lowest on record. Similarly where the UK building industry is concerned, the amount of jobs offered by construction companies has been continuously increasing since 2011. In Ireland, one in four construction jobs are currently vacant and the sector is "very stressed", an employment watchdog has revealed.
So what is driving this huge demand that we are seeing worldwide? There are  several key trends and factors including population growth, urbanisation, infrastructure programs and an ever increasing demand for pharmaceutical, data centre and semiconductor builds. Add to this the increased demand for sustainable building practices and advanced technology integration, the industry is evolving, and so are the job opportunities within it. With all that in mind, here are the top 10 construction jobs that are projected to be in-demand for 2024 and beyond:
1 – Green Construction Specialists
As sustainability becomes an integral part of modern construction, the demand for specialists in green building practices is on the rise. These professionals are adept at implementing eco-friendly materials, energy-efficient systems, and environmentally conscious construction techniques.
2 – BIM (Building Information Modeling) Managers
With the increasing adoption of BIM technology, there's a growing need for experts who can manage and oversee the digital representation of a building's physical and functional characteristics. For instance the UK government has been a major proponent of BIM and has set several targets for its adoption including stating that all public sector projects over £5 million must use BIM by 2025. It's a trend seen in many other countries too. BIM managers play a crucial role in enhancing collaboration and efficiency throughout the construction process.
3 – Construction Project Managers
Project managers are arguably the most important people on any successful construction project. Their role involves overseeing the planning, execution, and completion of projects, ensuring they are on time and within budget. Skilled project managers are able to utilise the best construction management, commissioning and turnover software such as EIDA to get the job done properly and are invaluable assets to construction firms.
4 – Civil Engineers
Civil engineers are essential for designing and overseeing the construction of infrastructure projects like roads, bridges, and water systems. As governments invest in improving and expanding infrastructure, the demand for skilled civil engineers is expected to grow.
5 – HVAC Technicians
Heating, ventilation, and air conditioning (HVAC) technicians play a crucial role in maintaining and installing climate control systems. With an increasing emphasis on energy efficiency and indoor air quality, the demand for skilled HVAC technicians is projected to grow especially in the pharma, semiconductor and data centre industries.  
6 – Electricians
Technology and automation have ensured electricians remain in high demand worldwide. They are responsible for installing and maintaining electrical systems in buildings, ensuring they meet safety and code requirements. 
7 – Welders and Metal Fabricators
These skilled professionals are essential for constructing and repairing metal structures, from bridges to pipelines to manufacturing plants and everything in between. There is a staggering volume of welds needed on large pharmaceutical and life sciences projects with all the piping required so there is huge demand for these highly skilled workers which is only anticipated to increase.
8 – Heavy Equipment Operators
Operating heavy machinery like bulldozers, excavators, and cranes requires specialised skills. These operators are crucial for tasks ranging from excavation to material handling on construction sites.
9 – Document controllers
Document controllers play a vital role in the whole lifecycle of a complex construction project. They have a wide range of responsibilities including controlling company and project documentation, following and improving document control procedures and ensuring all documentation meets project requirements and required standards. Thankfully in the digital age we live in there is powerful construction management and commissioning software available that can make a difficult job easier.
10 – Safety Managers and Inspectors
Safety remains a top priority in the construction industry. Safety managers and inspectors are responsible for ensuring compliance with regulations and implementing safety protocols to prevent accidents and injuries on construction sites. The most in demand are those with experience using safety management softwares like EIDA that digitises and streamlines everyday safety activities such as document management, permitting, risk assessments and method statement approval. 
In conclusion, the construction industry is poised for growth and transformation in the coming years. With advancements in technology, an emphasis on sustainability, and a renewed focus on infrastructure, the demand for skilled construction professionals is set to surge. By acquiring expertise in these in-demand roles, individuals can position themselves for rewarding and stable careers in the dynamic world of construction.
In order to get ahead in this evolving landscape, EIDA is the go-to solution to streamline your operations and gain a competitive advantage. Book a demo with one of our expert consultants today to learn how our best in class construction management technology can improve efficiency, safety, and productivity.